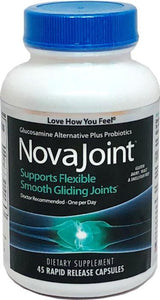 NovaJoint Supports Flexible Smooth Gliding Joints
NovaNutrients
Fast Joint Support 7-10 Days (for most) 
Without Glucosamine
45 Vegetarian Capsules
NovaJoint is designed to help patients:
Work and play with comfortable joint movement
Maintain flexibility & range of motion to walk, bend & climb
Protect joints from harmful oxidants that can accelerate cartilage damage & joint tissue break down
Support strong, healthy joints for a brighter, active daily life
Enjoy indoor and outdoor activities
Maintain an active, healthy lifestyle and quality of life
Keep muscles and joints in healthy, competitive shape
Stay on track with maintenance dose of 1 easy-to-swallow, rapid release capsule per day
NovaJoint's breakthrough Eggshell Membrane-focused formula makes it possible to experience noticeable benefits in just 7 to 10 days, with just 1 capsule per day.
Eggshell Membrane is the latest evidence-based ingredient to offer patients noticeable, clinical joint health support quickly and easily.

NovaJoint is ideal for patients complaining of pill fatigue and who need to avoid shellfish or beef containing products.

NOVAJOINT HIGHLIGHTS
The 1 Capsule Per Day Alternative to Glucosamine, Chondroitin, MSM & others
Physician-Formulated
Patient Compliance-Friendly
Clinical Potency
Evidence-Based
Convenient & Easy to Take (1 capsule per day)
Fast, Noticeable Benefits
What is Eggshell Membrane?
Eggshell Membrane is the thin rubbery layer found just inside the eggshell. This layer is destroyed by cooking, so extraction takes place within 30 seconds of cracking. This thin rubbery membrane contains many important bioactive molecules that have been discovered to be beneficial for joint health like:
Collagen
Elastin
Glucosamine (naturally occurring)
Chondroitin (naturally occurring)
Glycosaminoglycans (GAGs)
Transforming growth factor-β
Desmosine & isodesmosine
Click here for more information
*These statements have not been evaluated by the Food & Drug Administration. This product is not intended to diagnose, treat, cure, or prevent any disease.